TEAM WORK TAKES SOFT SKILLS AND TRUST
Technical skills are not enough anymore to secure a successful career as a team member. The reason is that if you can't collaborate, communicate, relate, and coordinate well enough with your colleagues you'll have a hard time getting things done to reach the desired productivity level. Technical skills are not enough anymore.
The ability to work well in a team takes Soft Skills, also called, Essential Skills, People Skills, Social Skills, or Interpersonal Skills.
NDUNA specializes in helping you become aware of the soft skills gap you and your team might have. We do this by applying our NDUNA SUPERTEAM concept. We help you close the gaps and optimize your team's behavior to become a high-performance team.
TEAM DEVELOPMENT FOR HIGH-PERFORMANCE:
When putting together a High-Performing Team most managers demand a focus on the rational, technical side of working together. As a result, most teams built that way are weak. Putting a stronger focus on the irrational side of human behavior is where we find the real potential for optimizing a team's performance.
If you start building your new team by making each team member more self-aware on their behavior, you are on the right track leading to a stronger, more effective, harmonious, and resilient high-performance team. A positive consequence of higher self-awareness in teams is that team member will realize a truth that we seldom talk about: We often commit to tasks, goals, missions and visions that we don't really care for.
Kicking off a new team by talking about the superficial commitments we make the team dialogue go deeper than normal. This means that team members will talk more freely about which tasks are closer to their hearts. In other words, what tasks gives them energy to do. And Which tasks drain their energy.
Making a team realize that they are irrational human beings, will help them feel more free to participate in a more open and honest team dialogue. The positive consequence of accepting an irrational behaviour will save time building the team and sooner get to a higher trust level among the team members.
WE OVERESTIMATE OUR ABILITIES

Human beings tend to overestimate their own abilities and downplay others. This often results in a lack of trust. And trust is the fuel that makes a team work well together with other teams and stakeholders. The team members must trust each other. The stakeholders must trust the team, and the team must trust and be trusted by other teams, inside and outside the organization.
"Training your team members to improve their soft skills to work better together leads to a dramatically increased performance." Søren Leth-Nissen, NDUNA  
HOW TO GET AHEAD OF COMPETING TEAMS
To get ahead of the competition, the team development work includes vital areas of performance deliverance on the business goals.NDUNA has worked with well over forty teams. Based on our experience, we predict that your team members need to improve their Social and Emotional Skills, no matter what they say. Research from McKinsey shows that the skills most in demand are Leadership and Managing others, followed by Teaching and Training Others, Advanced Communication and Negotiation Skills, Interpersonal Skills and Empathy, Adaptability and Continuous Learning, and Entrepreneurship and Initiative-taking. (McKinsey Global Institute Workforce Skill Model) 
MEASURE THE TEAM'S PRESENT PERFORMANCE POTENTIAL
We are fans of 'The Five Dysfunctions of a Team' by Patrick Lencioni. Patrick's approach to building great teams starts by measuring the Trust, the Fear of Conflicts level, the Commitment, the Accountability, and the team's Attention to Results. In that way we get a clearer picture of the 'true' team potential. Getting a clearer picture of the team's real potential is important because we human beings tend to overestimate our own abilities and downplay others. The result is a lack of trust from other team members. So instead of trying to build trust by telling and showing what we can do and what we are not so good at, we fool our colleagues in an attempt to look better than we really are.
I think there are two reasons we behave like that. One reason is fright. The job of our reptile brain is to secure survival in all situations. Since we don't know the other persons intentions in the group, our reptile brain shuts down for the human side of our behavior. The other reason for our irrational behavior in new groups is vanity. Again, it's the reptile brain which tries to make us look as good as possible in order to compete for a position at the top of the hierarchy.
FRIGHT AND VANITY
The 'fright-and-vanity-behavior is irrational. We all know it. Instead of building trust, we do the opposite, trying to look good in the moment. When building a team it is our job to calm down people's reptile brains and make them utilize more of their prefrontal cortex, where we find the cognitive skills that we need when working together in a team.
TRUST IS THE FOUNDATION FOR GREAT TEAM WORK
As team-builders we know that the sooner we can get a minimum of trust established between the team members, we are on the right way. Trust is the foundation that makes a team work well together. The team members must trust each other. Likewise, the team must trust and be trusted by other teams, inside and outside the organization.
"Improving your team's vital soft skills makes it easier to work better together. Well-developed soft skills in a team results in dramatically increased performance." Søren Leth-Nissen, NDUNA.
VITAL SOFT SKILLS TO ADDRESS WHEN BUILDING A TEAM
To get ahead of the competition, the team development work includes developing team members soft skills.
Being fans of Patrick Lencioni, it's our experience that Patrick's approach to building a great team must start by measuring the Trust Level, the Fear of Conflicts, the Level of Real Commitment, the Accountability Level, and the Attention to Results level. We often do that exercise to kick off an effective team development process. Having measured the various levels we focus on Increasing, Decreasing, and Improving various parameters together with the team. The parameters that we focus are the following.   
Increase the TRUST LEVEL
A high trust level speeds up all processes and makes way for fast decision making. Faster decision making in trusted teams increases both quality (no loss of data) and speed 
Decrease the FEAR of CONFLICT
A decreased fear of conflict gives quality a major lift since the 'political correct' answers will be replaced with value-adding discussions in a safe working environment.
Improve LEVEL of COMMITMENT
An improved level of commitment will lead to that the team, as well as the individual, want to 'walk the extra mile' to deliver the promised quality and service.
Improve LEVEL of ACCOUNTABILITY
An improved level of accountability makes each individual member of the team accountable to the team, not just the leader of the team. This is about ethics that will hold each and everyone accountable to each other and the teams' decisions
Increase ATTENTION to RESULTS
An improved focus on goals agreed by the TEAM.  A team member not only focuses on the individual's own silo-results but also on the team goals and results.
THE NDUNA SUPERTEAM: A TEAM DEVELOPMENT REVOLUTION
The way we help our clients develop high-performance teams is to apply our concept of an NDUNA SUPERTEAM.
A NDUNA SUPERTEAM is characterized by its ability to PERFORM.
The team must have a Purpose

This means that the team has spent time developing shared one or more common vision(s). There aren't really any shortcut through this exercise.
The team must feel Empowered
The team has the authority to make and take decisions. The boss must delegate the tasks at hand to the team and trust that they can and will deliver in the right quality and on time. Many bosses state that they delegate but often it turns out the trust level from the boss i low. The results can be measured on the same low scale.
Well developed Relationships
The Relationships within the team are so well developed, that the team communicates openly without fear of criticism. This also takes time. I hope that you realize that it takes time, money and trust to build a High-Performing Team.
Flexibility and Agility
When trust, resources, and money are available, though, the team starts to show Flexibility or agility when facing new challenges. The team starts adapting easily to evolving conditions.
Optimal productivity
The team soon deliver Optimal productivity: The team is now known for deadlines met; work among team members and internal and external stakeholders is harmonious and effective. It is now a High-Performing Team.
Mutual Recognition
When working together the team demonstrates Recognition towards each other's work. The team acknowledges individual contributions and successes. Efforts are celebrated, even those that fail.
High Morale
The team shows a high Morale. The Team is enthusiastic, resilient, and feels confident and committed. 
The team's ability to P.E.R.F.O.R.M is now at an optimal level and the team can now call itself a NDUNA SUPERTEAM.
DIGITAL, HUMAN, SOCIAL AND EMOTIONAL SKILLS ARE NEEDED
The Fourth Industrial Revolution is creating demand for millions of new jobs, with vast new opportunities for fulfilling people's potential and aspirations.
Demand for both "digital" and "human" factors is driving growth in the professions of the future.
There are seven emerging professional clusters and 96 jobs of tomorrow within them that vary in their individual rate of growth and in the scale of job opportunities they offer in the aggregate
The highest-demand skills required in these emerging professional clusters span both technical and cross-functional skills. Source: Jobs of Tomorrow: Mapping Opportunity in the New Economy, WEFORUM, January 22, 2020
RETRAIN, REDEPLOY, HIRE, CONTRACT & RELEASE
McKinsey Global Institute Analysis has published a model for a Future Workforce Model which we find very useful.
Below, you get some insights into how NDUNA sees the consequences of the skills needed in the future workforce.
NDUNA actively prepare teams for this future which holds massive potentials for the individual team member and also for competitive teams. What is takes, however, is the ability to develop strong Social and Emotional Skills.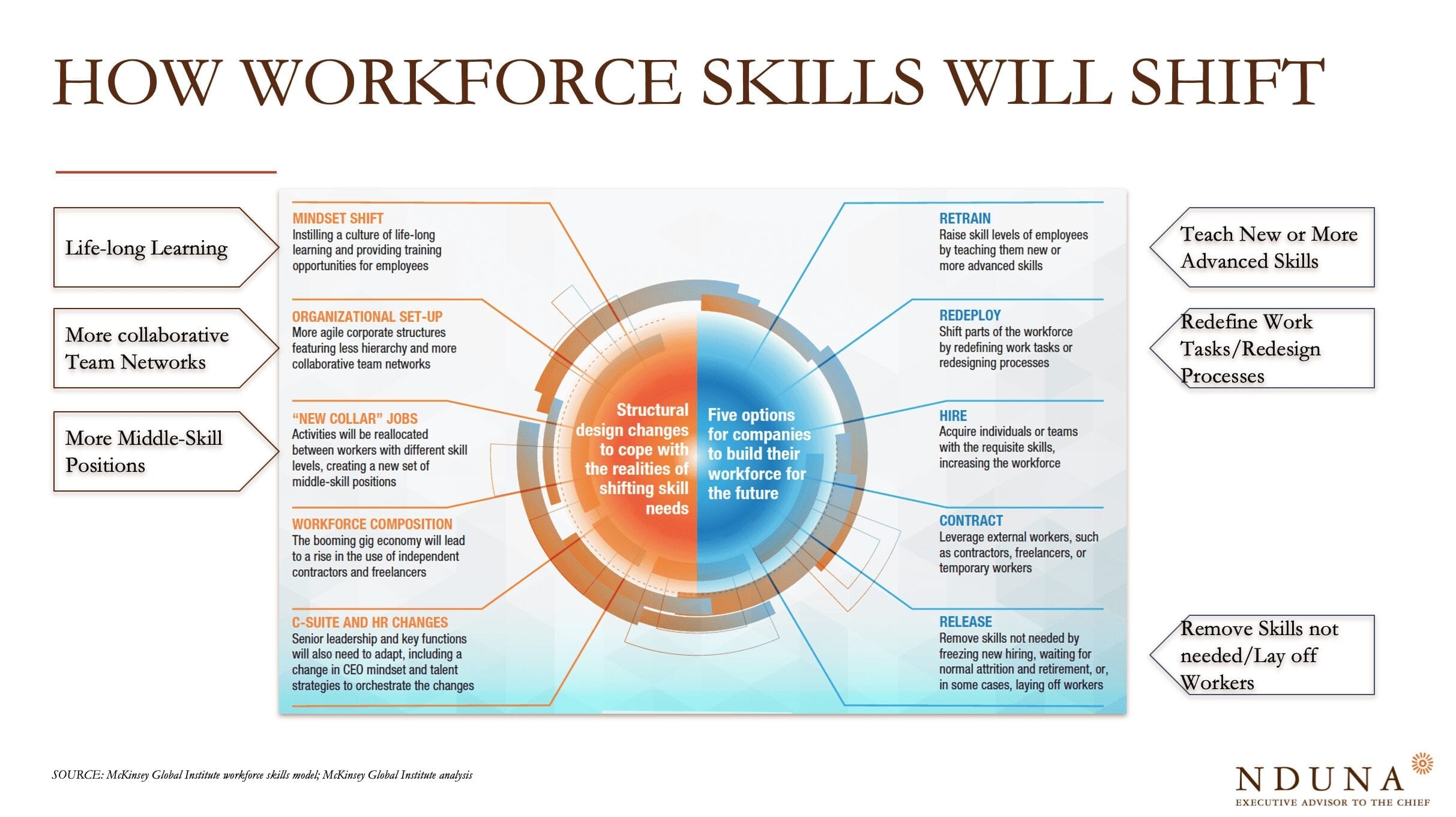 NDUNA has worked with 40+ teams
NDUNA has impacted thousands of people
My professional working relationship with Søren Leth-Nissen starts in 2008. Since that time, we have worked with a number of change management projects together.
Further, Søren works as a personal sparring partner to me. Søren is a driver in making the change management programs for my teams successful.
I give Søren/NDUNA my best recommendations.
WE CAN'T DO WITHOUT ENGINEERS...AND WE CAN'T DO WITHOUT YOU, FOR THAT MATTER
If you want to learn more on how NDUNA can help Analytical Minds like your own, please contact us.
We are specialized in helping Specialists, Managers, and Leaders with a technical background and analytical/sceptical mindsets.
Fill in the contact form below or call us on +45 29725405.
Thank you for your attention!
Søren Leth-Nissen, Founder
WHERE YOU CAN FIND US
ADDRESS: Skiftevej 10, 2820 Gentofte
Click the Pin below to find your way to our office.
NDUNA A/S Executive Advisor to the Chief. Come and visit at Skiftevej 10, 2820 Gentofte
Skiftevej 10, 2820 Gentofte