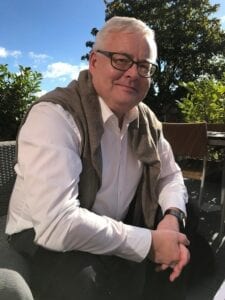 SOFT SKILLS DELIVER HARD RESULTS
NDUNA is a soft skills specialist. We do leadership and team development applying research-based methods that really work. Our clients come to us for improved performance either on an individual level or on a team level. Or both.

NDUNA
Our name "NDUNA" means "Executive Advisor to the Chief," and that is what we do.
Søren is a soft skills specialist working as a trusted advisor. Having earned the trust from a client means that it's possible to provide deep advice.
Executive Coaching, Leadership Development, Team Development, Transformational Leadership, Personality Assessments, Learning & Development are some of the formats we work in.
Typically, we meet new clients by referral.
If you're interested you can learn what our clients say when we ask them for a recommendation. Please go to our Testimonials page.
You can read more of what we do on this page and you can learn more about the founder, Søren Leth-Nissen on his LinkedIn page.
WHAT WE DO
We specialize in Leadership and Team Development for ambitious subject-matter specialists, managers, and leaders.
We are obsessed with helping great people like yourself to make your dreams come true. When we work with you, we are fully engaged. We see it as our job to help you win.
OUR SERVICE CATALOGUE
We deliver a wide range of services targeted to individual managers/leaders and teams in your organization.
The organizational levels that we serve include
Leadership Development
Team Development
WHO WE SERVE
Since 2003, we have earned the trust of numerous esteemed Danish and Nordic prestige Brands, within a wide range of industries.
The common denominator for a majority of our clients is that they are trained as engineers within a broad range of disciplines, such as Mechanical Engineers, Industrial/Manufacturing, Hydraulics, Software, Computer Science, Electrical, Electronics, Civil Engineers, Aerospace, Chemical, Environmental, Petroleum, Lighting, etc.
Other highly trained specialists we serve include Economists, Industrial Designers, Pharmacists, Dentists, and many others.
Mechanical Engineering:
Grundfos, Kverneland Group, Vestas Technology R&D
Shipping:
Torm, Berge Bulk, Team Tankers
Software:
Trackunit, xSuite Nordics
Consulting:
DIS – Innovative Engineering, PA Consulting Group, Implement Consulting Group
Water Management Competence Cluster:
Den Danske Vandklynge
NUMBERS DON'T LIE
17 years of trusted relationships with more than 180 different clients tell its own story.
NDUNA has delivered more than 6000 Executive Coaching hours to great leadership talents.
Executive Coaching Hours Delivered to great leadership talents
75 percent of our clients give NDUNA more business
NDUNA has served more than 180 clients
My professional working relationship with Søren Leth-Nissen starts in 2008. Since that time, we have worked with a number of change management projects together.
Further, Søren works as a personal sparring partner to me. Søren is a driver in making the change management programs for my teams successful.
I give Søren/NDUNA my best recommendations.
BECOME A HIGH-PERFORMER
Technical skills are not enough anymore to secure a successful career. If you can't collaborate, communicate, relate, and coordinate well enough with your colleagues in the team and with other cross-functional teams inside and outside the organization, you'll have a hard time getting things done to reach the desired productivity level.
The ability to work well in a team takes a lot of soft skills, also called, Essential Skills, Social Skills, or Interpersonal Skills.
NDUNA specializes in helping you become aware of the soft skills gap you might have. And we help you close the gaps and optimize your team performance behavior.
WE CAN'T DO WITHOUT YOU!
If you want to learn more on how NDUNA can help Analytical Minds like your own, please contact us.
We are specialized in helping Specialists, Managers, and Leaders with a technical background and analytical/sceptical mindsets.
Fill in the contact form below or call us on +45 29725405.
Thank you for your attention!
Søren Leth-Nissen, Founder
WHERE YOU CAN FIND US
ADDRESS: Skiftevej 10, 2820 Gentofte