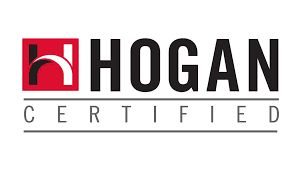 NDUNA Is Certified In Hogan Assessment Systems
The Science of Personality
NDUNA can predict your job performance. Based on Hogan's Science of Personality, Hogan Assessments develops solutions that provide critical insight into characteristics that not only facilitate an individual's success, but, more importantly, can cause failure and career derailment.
Grounded in more than three decades of validated research, Hogan Assessments were the first to scientifically measure personality for business. Thirty years later, Hogan is committed to the same spirit of innovation that helped Hogan become the industry leader.
Founded in 1987 by Drs. Joyce and Robert Hogan, Hogan leads the world in personality assessment and leadership development. With products and services in 56 countries and 47 languages, what began as a small startup has evolved into the industry leader serving more than half of the US Fortune 500.
Positive Company Culture
When Bob and Joyce Hogan launched their small startup, the business plan was simple: build a team of talented, ambitious people and get out of their way. Three decades later, we still maintain that standard by hiring people who believe in our products, embrace our "work hard, play hard" philosophy, and emphasize positive company culture.
Predictive Power
Only Hogan examines personality from every angle. By measuring the bright side, dark side, and inside of personality, we are able to achieve the highest level of predictive validity in the industry.
Bias-Free
Hogan develops non-discriminatory personality assessments. Hogan assessments allow employers to eliminate any potential bias based on gender, ethnicity, and race as part of the selection process.